New Work: On the way to digital internal communication
The New Work movement has jolted the world of work and brought about new forms of digital collaboration, leadership and also communication in companies. As part of our series on the topic of "New Work", in this article we look at how internal communication is changing in the wake of New Work and digitization, and why companies must not lose touch under any circumstances if they want to remain competitive.The New Work movement has jolted the working world, and new forms of digital collaboration, leadership and also communication have emerged in companies. As part of our series on the topic of "New Work", in this article we look at how internal communication is changing in the wake of New Work and digitization and why companies must not lose touch under any circumstances if they want to remain competitive.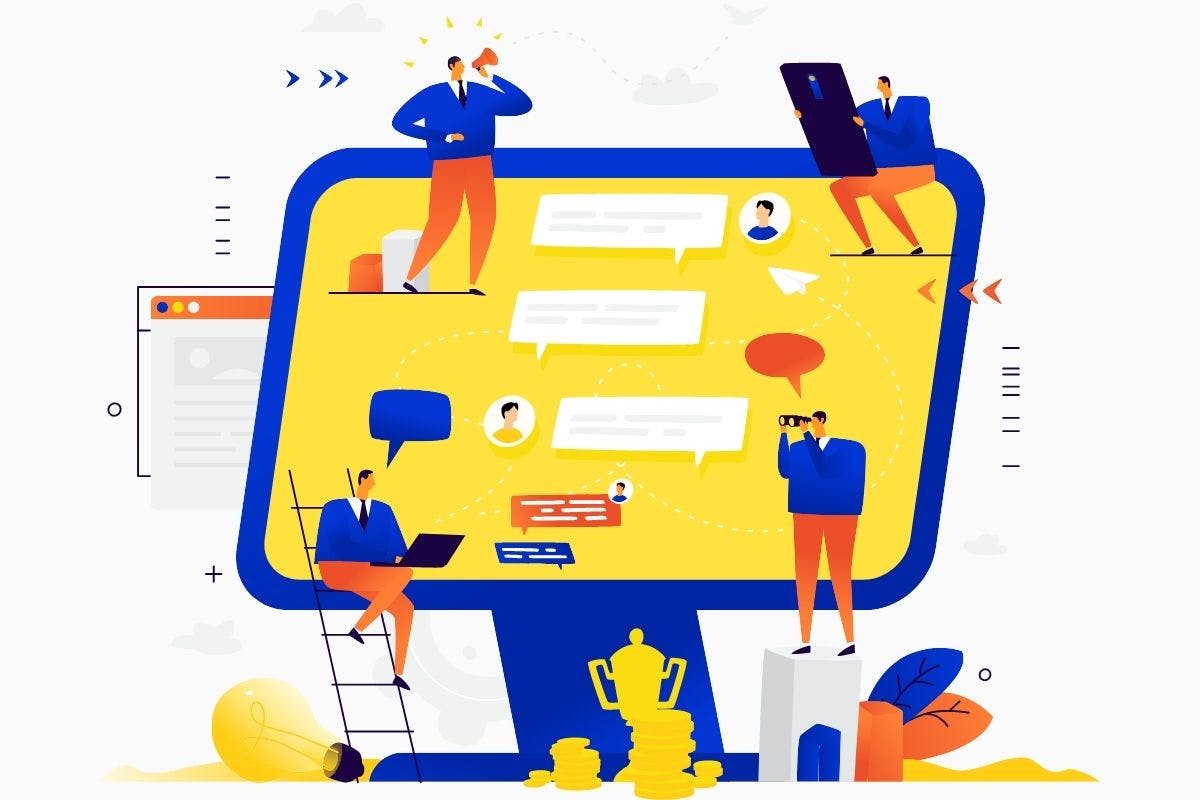 The working world of tomorrow: What is New Work?
The term "New Work" was coined as early as the 1970s as a counter-design to the wage labor that was common until then. Aspects such as self-realization and self-determination at work, more co-design and co-determination for employees, as well as a new leadership culture and new forms of (digital) collaboration, among others, determine today's understanding of New Work. Read our detailed article for more exciting background information on the topic of New Work.
What does internal communication have to do with corporate success?
Competition never sleeps, almost every market is highly competitive. Companies must realize that their greatest asset and success factor in order to survive in the marketplace is their employees. In retail, for example, employees are the brand's figurehead on the sales floor and interact intensively with customers. Motivated and always well informed, they are an important lever for satisfied customers and economic success. Conversely, market visitors are the first to notice when internal communication and information are not running smoothly, employees do not know the answers to questions and their work is not motivated. These shortcomings usually reflect negatively on the brand and can mean a setback in the competition for customers.
Poor communication causes employee:s to quit.
Excessive turnover among skilled employees in the company can become a significant cost factor: Recruiting and personnel costs must be incurred to find new talent. The loss of expertise due to employees leaving the company at their own request is much more serious and cannot be quantified in terms of price.
But why do employees leave the company?
A weak bond with the company or the feeling of not being valued by the company are often responsible for employees leaving the company. Outdated tools such as the intranet, with which employees can only be reached very poorly and collaboration is hardly possible, also play a large part in poor internal communication and thus in employee dissatisfaction.
By creating a modern, appreciative leadership culture at eye level, a new, transparent internal communication strategy that gives each employee a voice, and meeting the individual needs of each person, you can contribute to a high level of employee satisfaction and increase employee loyalty to the company. Learn more in our article on employee satisfaction.
Employees expect functioning internal communications.
Employees want effective internal communications that provide them with relevant topics and up-to-date information. In a study by the University of Hohenheim[1], employees identified internal communication as important or very important:
for the employee personally (64.7 % very important / 26.8 % important)
for the motivation of employees (58.9 % very important / 31.8 % important)
for a functioning cooperation (57 % very important / 31.8 % important)
for the success of the company (51.3 % very important / 34 % important)
for the "we" feeling in the company (42.7 % very important / 39.3 % important)
New Work: A new approach to internal communication.
New Work also means a new interpretation and digitalization of internal communication. We have already seen that this is particularly important to employees:inside for various reasons. In the following section, we summarize exciting food for thought and concrete tips on what the internal communication of tomorrow will look like.
The Problem: Internal Communication like 1999
"Companies today are using yesterday's tools to communicate with tomorrow's generation," is how Prof. Dr. Bernd Rall from DHBW Stuttgart sums up internal communication in many companies. While the world around us is being increasingly permeated by digitalization, companies are trying to reach customers digitally via modern media, but are neglecting their own employees. Thus, internal communication in many companies looks like this:
Notices on the bulletin board
General PC terminal in the break room
Outdated intranet that only allows top-down communication.
Employee Experience and Employee Engagement
The terms employee experience and employee engagement are often used in connection with internal communications and the working world of tomorrow. Loosely translated, this refers on the one hand to the employees' work experience and on the other to their commitment and motivation. A high and successful employee experience is therefore the declared goal of managers and HR employees in order to achieve a high level of employee engagement, i.e. a high level of employee motivation. Together with appreciative leadership and a positive team culture, successful and structured internal communication in particular contributes to a high employee experience.
Internal communication goes mobile and digital
Many companies still have problems reaching all employees equally. In view of the already large communications gap between desk workers and non-desk workers (80% of employees worldwide do not have a fixed desk[2]), this is not necessarily getting any easier in view of global trends such as mobile working, home office and different working time models. In a modern work environment, the intranet is long outdated. With digital tools such as employee apps, internal communication is increasingly detaching itself from the desktop PC and is always in the employee's pocket - whether in the office, in the warehouse, on the sales floor or in the field. Thanks to the practical newsfeed, all employees are always up to date, can assign tasks or subtasks to each other and work through them, exchange information securely and in compliance with the German Data Protection Act (DSGVO) in group or individual chats, submit vacation requests and shift schedule changes completely digitally, and much more.
(Video) content is king
Internal communication thrives on a well-thought-out communication strategy that delivers appropriate, relevant content for the various target groups within the company. One of the trends in internal communications is undoubtedly the use of video content. Video conferences during the Corona-related lockdown have shown how emotional closeness can also be created digitally via video without being physically present. There are also numerous possible applications for internal communication. How about, for example, internal training videos or updates from the management level on specific topics. The possibilities are manifold.
Communicating at eye level
In essence, internal communication according to the New Work approach is about achieving a strong bond with the company and a pronounced "we feeling" in the team through trusting communication at eye level. The top-down models of the intranet age have also had their day - internal communication should work in both directions.
According to the New Work understanding, managers act more as coaches than as controllers and accompany and support employees on the path of their personal development. Establish a management culture that understands "flat hierarchies" as more than just a buzzword; instead, be close to your employees at all times and open to their wishes, suggestions and problems.
This also includes getting rid of the idea that employees are only motivated and focused when they are physically present. This assumption is simply wrong and outdated. Instead, promote flexible models such as home office or mobile working - provided the right digital (communication) tools are in place for successful collaboration. Last but not least, modern companies pursue an "internal first" approach in their communications, communicating developments and innovations internally first before they go to the press, thereby also expressing their appreciation for the employees.
[1] Source: "Internal communication as perceived by employees Results of a survey" (http://opus.uni-hohenheim.de/volltexte/2009/389/pdf/Kommunikation_und_Analyse_Band_7.pdf)
[2] Quelle: http://desklessworkforce2018.com/