The advertising material supplier elasto published the last message on the intranet on the 5th of August 2021. Nowadays, employees are informed regularly via the app. Before the app was introduced, 70 per cent of the workforce did not have their own e-mail address and could only be reached via notices. "With a three-shift operation in production and several locations, this was a disproportionate effort," says the head of internal communication, Ellen Scheibl. Her colleagues in the administration department, on the other hand, struggled with an e-mail overload. These preconditions prompted elasto to make the path-breaking decision to introduce Flip's employee app.
And this has turned out to be precisely the right thing to do. "I enjoy the internal communication via the app a thousand times more than before," Ellen Scheibl emphasises. Not only can all employees now be reached simultaneously, regardless of location and shift, but also a targeted communication channel has been created with which people only receive the information that is relevant to them. In addition, they established a feedback culture, and with the help of the translation function, even language barriers could be dissolved. Ellen Scheibl sums up: "Flip has become much more than communication for us."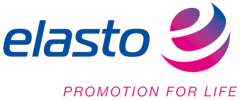 Elasto, founded in 1980 in Sulzbach-Rosenberg in the Upper Palatinate, is today one of the leading European suppliers for promotional products. The company employs over 450 people at 18 locations worldwide and sells over 200 million promotional products per year. These include, for example, promotional gifts for every imaginable area of use, reusable beverage cups for stadiums and event locations, hygiene articles, fan articles and reusable ToGo packaging. Since 2022, elasto has not only been producing in a climate-neutral way but has also been officially certified as a climate-positive company by the German Institute for Sustainability and Economics. This means that elasto offsets the CO2 emissions produced and makes an additional commitment to the environment.