What added value does an employee app offer in retailing
Fast-moving, highly topical and always close to the customer. This is how you could describe the challenges that retailers face every day. Not everything always runs smoothly. In the stressful daily routine, information is often lost and phrases from employees such as "I didn't know that" or "I can't help you with that" are used far too often with customers. In this article, you'll learn how to improve internal communication with your employees and collaboration within the team with the help of an employee app.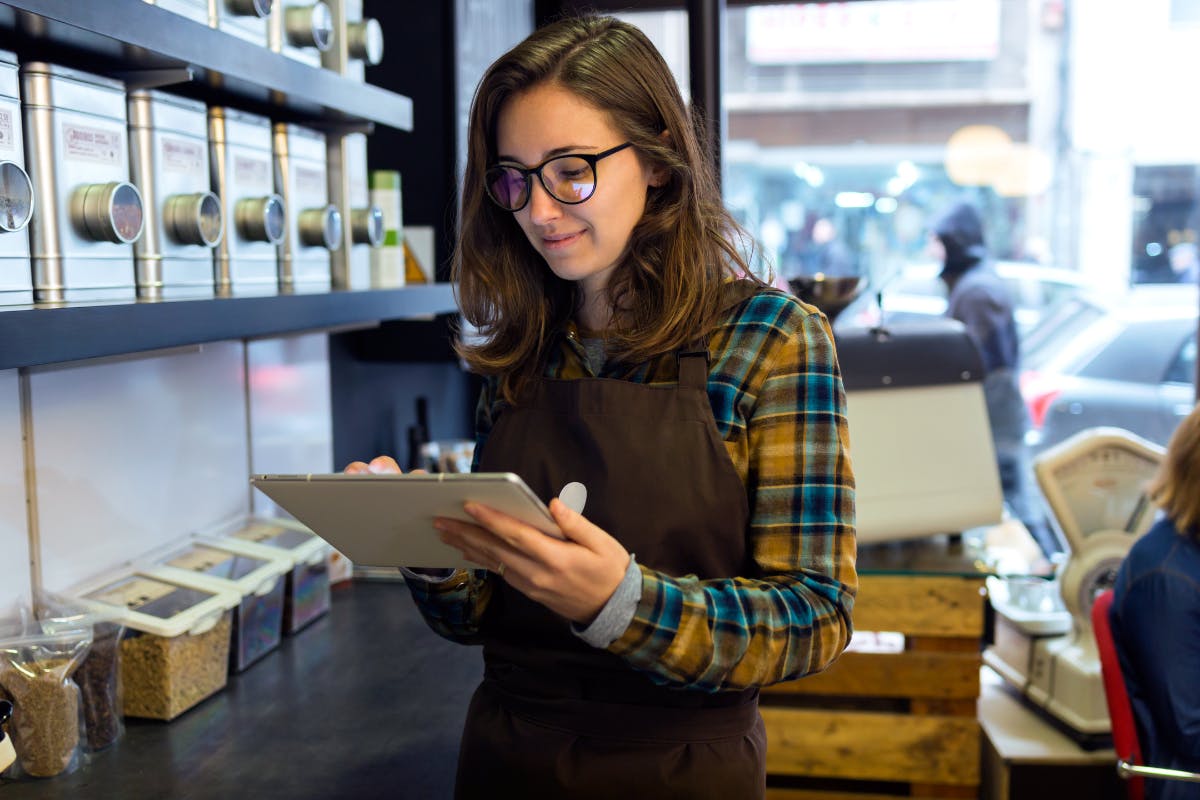 Why does retail have a communication deficit?
However, the retail sector still has some catching up to do in terms of digitization - only 27% of companies are pursuing a digitization strategy[1]. Many focus too much on digital communication with the customer, but forget about internal communication and therefore communication between employees and customers.
Information and shift schedules on bulletin boards, notices and PC terminals in the break room, word-of-mouth, news by mail. This is what internal communication looks like in many places in 2021. Many companies in the retail sector do not have clear processes for passing on information and, moreover, cannot ensure that news also reaches employees who are sick or on vacation. Another challenge for communication is that around 60% of employees in the retail sector work part-time.
Why are well-informed employees so important?
The retail market is competitive. Both regional companies and large online players compete for customers on a daily basis. Most of the communication between customers and employees takes place directly in the store. They are the brand's figurehead. Motivated, well-informed teams that provide customers with advice and support get the word out and attract more customers. Conversely, it reflects poorly on the brand when employees appear uninformed, disinterested, listless and disorganized.
Do not underestimate this important lever that decides whether you stand out from the competition!
Finally reaching all employees: The potential of an employee app in retail
With an employee app, all employees can be addressed easily and without loss of time, regardless of whether they are working in the warehouse, in the sales area or in the office. This means that every team member is always up to date on incoming goods, currently valid special offers or delivery problems and can respond appropriately to customers' questions in the store and offer them even better service. Internal teamwork is also optimized, as tasks can be assigned to individual employees in a structured manner via the app and then processed.
Organizational and administrative tasks such as shift and vacation planning, which previously sometimes had to fall by the wayside due to time constraints, can be handled centrally and digitally with just a few clicks. In addition, helpful documents ranging from instructions to training videos can be stored centrally for everyone and accessed at any time as needed. Employees can exchange information via the privacy-compliant channel, create posts, and like, share, and comment on others.
With the help of an employee app, you can digitize and simplify previously complicated processes in the company. The direct exchange within the team and structured internal communication with a well thought-out content plan promote employee satisfaction and increase their motivation in their daily work.
Read more about an "Employee App in Retail" in this article.
Tips on how to increase employee satisfaction can be found here.
For more insights on how Flip's employee app has been successfully deployed in EDEKA stores, check out our whitepaper on the topic.